2009.10.09 10:04

It start on August 22 2009, three days before I defended my dissertation. Because I wasn't registered for the fall semester at BU, I was no longer covered by Aetna chickering, the student healthcare plan that was paid by my department. I only found this out on the 28th, still in the excitement of completing, and as a tax-paying Massachusetts resident and a legal immigrant authorized to work in the US, I thought I should be able to get the benefit of COBRA or Masshealth. That was also what my department told me.
My new employer told me that my health insurance through them will be effective from October 1. So I wanted to find some way to be covered for the month of September.
I first called HR at BU then Aetna chickering to learn that I am not eligible for COBRA, because I had a student health insurance "paid by the department, which is my employer", but not an "employer sponsored health insurance".
I also asked Aetna chickering if there is any plan I can pay out of pocket and continue to be covered by them. They said no.
Then I started my search in Masshealth. Turns out, I am not eligible for Commonwealth care, because I am not a US citizen. More and more I look into this, I realized when the US government says "illegal immigrants" they really mean "any foreigners". I could not find any mention of "legal immigrants/aliens".
I started to lose hope about finding anything in the US. I called my parents in S. Korea to buy me a traveler's insurance for one month. A few days later, my mother called back and told me that she couldn't buy anything that is effective right away because I was already out of the country.
I looked back in Masshealth and found one option that covers immigrants, both illegal and legal. By this time I only had 3 weeks to go without insurance. Learning the process time of Masshealth is 2 weeks, I decided to go without insurance.
October came, and I finally selected my healthcare plan. Non of them impressed me and it just looked like having to select how to be restricted as I said earlier.
I have been waking up with migraine headaches for a while now. Today, I picked up my phone and called to make a first appointment with a primary care physician I found in my neighborhood, who I also had to check with all my healthcare options for coverage. (This idea that some company tells me which doctor I can go or not is totally absurd for me.)
I gave all my information and was about to make an appointment. Then the receptionist told me that they can't find my information in Blue Cross Blue Shield yet.
She didn't make an appointment for me. I have to wait until my card arrives and they can confirm that I am indeed in BCBS system.
I did not stop working for a single day. I was a research assistant at Boston University until Sep 25 Friday, and senior research fellow at Mass Eye and Ear from Sep 28 Monday. And I do not have access to healthcare for 50 days as of today.
2009.09.07 15:14

Karl, Jamie and I enjoyed a nice afternoon walk at
World's End
yesterday. Then we had dinner at
India Quality
in Kenmore.
FYI, World's End is a small reservation in Hingham Massachusetts, not the end of the world.
2009.09.07 15:00

Blogging has been slow while I was pushing to finish my dissertation and traveling around later.
June: I finished the first draft of my dissertation.
July: Held the last committee meeting, then went to California. Went camping in Doran beach, wine tasting in Sonoma county with Kahye and Erhan, then
CIAP conference
in Lake Tahoe. Also I had a chance to catch up with
Kyujhin on my last day in California. It was nice little Daegu sciecne high/SNU EE/in the US reunion.

I flew from SF to Korea. Still working on my dissertation + lots of catching up with old friends, going back and forth between Daegu and Seoul.

August: On August 5th, my parents, brother and I all flew to Inchoen airport together. They went to Munich, and I came back to Boston for two days. Then I flew to Munich through Amsterdam to meet up with my family. We had a nice family vacation; highlight of it was the five concerts we attended at Salzburg Festival.

On my last day in Europe, I gave a talk at the Austrian Academy of Science in Vienna. For some reason, I wasn't too impressed by Vienna. I enjoyed Salzburg much better.

On 25th, I had my
"PhD final oral exam" - that is what dissertation defense is officially called in my department - and passed. Herin gave me these beautiful flowers.
On 27th, I moved to Harvard Sq. Cambridge. It was a very busy week.
September: I will submit the final version of the dissertation to the library, and start working at
Massachusetts Eye and Ear Infirmary
as a postdoc.
I am planning to be better about blogging from the fall. We'll see how it goes. :)
2008.12.22 13:25

I've been going to
Handel and Haydn Society
's Messiah performance every year since 2004 except this year. The schedule just didn't work out. Instead, I was listening to it at my office.
I used to go to church every Sunday till high school. We went to a small, rather quiet Presbyterian church (than most Korean churches), which had a small, humble and not-so-professional choir.
Maybe not every year, but they used to perform Hallelujah, translated into Korean and accompanied by piano, after rehearsing for weeks, for the Christmas service. I suddenly wanted to hear this song close to their modest performance, and found something similar online. Even though I am not religious now, it's emotional to listen to something that brings back holiday memories from childhood.
I warned you that my church choir was not so professional. ;) I actually love how they struggle so much at "King of Kings and Lord of Lords (왕의 왕, 또 주의 주)".
2008.12.11 11:40

From 千字文: thousand character poem

索居閒處 沈默寂寥 求古尋論 散慮逍遙
삭거한처 침묵적료 구고심론 산려소요

한가롭게 살며 조용히 거처하고, 말 없는 가운데 고요히 지낸다.
옛것을 구하여 찾아 논하며, 잡된 생각을 흩어버리고 유유자적한다.

Another poem I remember from middle school Chinese class.
松下問童子 言師採藥去 只在此山中 雲深不知處
송하문동자 언사채약거 지재차산중 운심부지처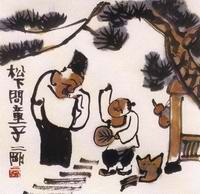 2008.11.18 11:11

Blogging has been slow, while mom was visiting and I was getting out of city on weekends to enjoy the New England fall. Walden pond, Mt. Monadnock, and World's End were all nice. And I registered for next semester.
http://www.minjinlee.com
I just finished reading "Free Food for Millionaires" by Min Jin Lee. I read all three of
Chang-rae Lee
's novels earlier this year and came across with another Korean-American Yale graduate writer. MJ's style is not as manicured as CR and I couldn't relate too much to the ungrateful shopaholic heroine "Casey Han" but I was still absorbed in the book. I rushed through the second half last night, just to know what happens and be able to put it away till next weekend, telling myself that scanning 200 pages of a novel somehow may have helped my English reading skills.
What's up with these KA Yalies with unlikable characters?
2008.08.29 09:11


american life
2008.08.15 00:06

I was chatting with a friend about cultural "heritage" from a FOB point of view and wanted to talk more about it.
I said I think cultural "heritage" is over emphasized in the US. Or misunderstood. As a person raised in urbanized Korea in the 80-90s, it seems like what people think as "Korean" is not quite what I experienced anymore. I don't eat Korean food for breakfast, and I am not the only one in my age who prefers western food in early morning. There are countless more examples, things "we don't do anymore".
It seems like generation gap issue like this is pretty common, even when you're raised in the home country, yet it is considered assimilation or lost of heritage for immigrants. And is it necessarily a bad thing?
This actually reminds me of my experience as a college freshman in Seoul. My hometown Daegu used to be famous for apples. Everyone, seriosly everyone I met in Seoul who was not from the area had to mention Dague apple. No, no one in my family owns an apple orchard. In fact, apples aren't produced in the city of Dague that much anymore. Are we losing our color? Maybe.
I often hear phrases like "the way people lived for thousands of years before ...". Is there really such a thing? After all, spicy red Kimchi is a south American fusion food, only appeared after red chili pepper was introduced to East Asia by the Portuguese. There were influences like this throughout the human history.
It is probably easy for a person like me to say I reject this and that of my culture for a certain reason, than someone who may feel guilty about self-denying. But is it really self-denying?
Personally, I can read for pleasure in two languages. It wasn't easy to get here, even after being exposed to two languages as a child. I am not saying this to brag off but want to testify that, although there is a joy in being (nearly) bilingual, I am not sure it is worth the effort to everyone and I don't think anyone should be forced to it. I think people make comments about being or not being able to "speak the language" too easy. I can tell you that it is very hard to "speak a language" other than the one you received your official education in.
And the Korean language I speak and write is quite different from what I grandparents spoke. We were taught to "protect" our language in school in Korea, but is it even possible?
One uncomfortable thing for me is the often romantisized way in which heritage is talked about. Some people say they are jealous of more recent immigrants who have a certain heritage. I guess what they are referring to is food or traditional clothing, or something soft, fluffy, "world show case" kind of stuff. Not something putting (often unfair) restrictions on their lives.
Picture is Pye-baek, part of Korean wedding, still practiced these days. Technically, it is not a part of the wedding, which used to be at the bride's place, but when the bride is officially introduced to the groom's family when she moves some time after the wedding.
This is when the bride becomes part the groom's family. She offers dates and chestnuts to the parents-in-law and they throw them back to the bride, which she has to catch with the cloth as in the picture. Meaning of it is to bear a son (or sons) and serve the ancestors (we don't have to clarify whose ancestors we're talking about here). She also has to bow to groom's entire family.
These days, it happens right after the "western" part of the wedding and bride's parents get to receive the bow. But only parents. Not everyone like for the man's family. It is still an important part of the wedding, privately held only for the family (and a few close friends of the bride) in a separate room, and still an intimidating part for the bride (as I hear from a very recent wedding I attended).
I know a Korean-American woman who did this at her wedding at the reception. I wonder if she knew that she was basically being told to bear a son and serve the ancestors for her husband's family. In one hand, I am almost jealous, that it is an "option" for her, that she doesn't have to worry too much about what it means (well, maybe that's not what her Korean parents-in-law were thinking). One the other hand, I want to say something, that it's not just "dressing up in a pretty costume", it has a meaning, that some people don't necessarily accept, or moreover, some people fought hard to overcome.
Interesting follow-up story on the Daegu apple is that Daegu apple is actually Missouri apple. Daegu only became famous for apples when an American missionary decided to plant some apples from his hometown in late 1800s.
Culture is fluid. What seems pretty old can be a fairly recent thing in reality. But it can also have more meaning than it looks from outside.
2008.06.23 22:49

2008.05.27 22:33

만 27세가 되고 나서부터 국민 연금 관리 공단에서 고지서가 날아오는 모양이라 작년에 납부 유예 신청을 했는데, 유예 신청도 일년에 한번씩 계속해야 한다고 해서 오늘 다시 유예 신청을 했습니다. 인터넷으로 하려고 했는데 기껏 은행에 가서 재발급해 온 공인인증서 비번을 또 까먹어서 연금공단에 국제 전화를 해야 했습니다.
Since I turned 27, Korean National Pension Service has been sending me bills. I waived it last year, but apparently I have to tell them that I do not have income in S. Korea every year. Unlike the US system, I can opt to pay it, too.
That was tonight's project, to waive NPS payment for another year. Again, I struggled with internet for half an hour, gave up and called NPS on the phone. Just saying I am studying aboard was enough.
납부 유예 신청하는 김에 궁금한 사항 몇가지를 정리해 봤습니다.
While I was on
nps.or.kr
, I looked up a few more questions.
반환 일시금
Lump-sum refund
반환일시금은 다음과 같은 경우에 지급됩니다.
① 가입기간 10년 미만인 자가 60세가 된 경우(단, 특례노령연금수급권자는 해당되지 않음)
② 가입자 또는 가입자이었던 자가 사망하였으나 유족연금에 해당되지 않는 경우
(가입자 또는 가입기간이 10년 이상인 가입자이었던 자가 사망한 때는 사망 당시 보험료를 2/3이상 납부하지
않거나 1년 미만 가입자의 경우 가입중에 발생한 질병 또는 부상이 아니어서 유족연금이 지급되지 않는 경우에 한함)
③ 국적을 상실하거나 국외로 이주한 경우
This is an interesting thing. You can get a lump sum refund when you phase out from the system for immigration, loss of nationality, or do not qualify to receive monthly payments.
Foreign workers
외국인가입자의 반환일시금 지급은 다음과 같은 경우에만 가능합니다.
① 그 외국인의 본국법에서 대한민국 국민에게 대한민국 반환일시금제도에 상응하는 급여를 지급하는 경우
② 대한민국과 외국인의 본국간에 반환일시금 지급에 관한 사회보장협정이 체결된 경우
③ 최소가입기간 충족여부와 상관없이 E-8(연수취업), E-9(비전문취업), H-2(방문취업)에 해당하는 체류자격으로 국민연금에 가입한 외국인이 본국에 귀환하는 경우(이미 본국으로 귀환한 외국인도 포함)

| | | |
| --- | --- | --- |
| | < 반환일시금 지급대상국 > | (2007.6.1 기준) |

국적에
상관없이
지급되는
외국인의
체류자격
사회
보장협정에
의한 대상국
(5개국)

상응성 인정에 의한 대상국 (29개국)

최소 가입기간
6개월 이상
(1개국)
최소 가입기간
1년이상
(9개국)
최소 가입기간
2년이상
(1개국)
최소가입기간
관계없이 인정
(18개국)
E-8(연수취업),
E-9(비전문취업),

H-2(방문취업)
독일,
미국,
캐나다,
헝가리,
프랑스

벨리즈

그레나다,
나이지리아,
바베이도스,
세인트빈센트그라나딘,
짐바브웨,
카메룬,
콩고,
태국,
토고

베네수엘라

가나, 말레이시아,
버뮤다, 스리랑카,
스위스, 엘살바도르,
인도네시아,
카자흐스탄, 케냐,
트리니다드토바고,
홍콩, 터키, 요르단,
수단, 인도, 콜롬비아,
바누아투, 필리핀
대체로 1-2년 정도 가입하면 귀국할때 반환 일시금을 받을 수 있는 것 같군요. 그렇다면 제가 미국에서 Social Security를 내다가 한국으로 귀국하게 되면 그동안 납부한 Social Security는 어떻게 되는 걸까요?
Foreign workers from above mentioned countries can receive lump sum refund when they move back if they were working in Korea for minimum of 1-2 years. Then what happens if I pay American Social Security and move back to S. Korea?
미국 사회보장제도에는 반환 일시금은 존재하지 않습니다. 하지만 놀랍게도 한국-미국 사회 보장 협정이라는 것이 존재하는군요. 양국에서 다 연금수령자격 미달일 경우 이 협정으로 구제받는 방법도 있는 모양입니다. 전문은 아래에 여기 있습니다. 이제까지 저는 미국에서 사회보장세를 내다가 10년 안에 귀국할 경우 사회보장세는 구경도 못 해보는 줄만 알았습니다.
http://www.socialsecurity.gov/international/Agreement_Pamphlets/korea.html
(in English)
http://www.ssa.gov/international/Agreement_Texts/hangul.html
(in Korean)
http://www.dynamic-korea.com/photo/OASDI_1.pdf
(in Korean)
US Social Security doesn't give back lump-sum refund. However, surprisingly, there are treaties for reciprocal social security arrangement between some countries and the US, and S. Korea is one of it. I assumed I won't see my Social Security payment if I have a job in the US for less than 10 years and move back. This is pretty complicated, but it says
"Normally, people who are not U.S. citizens may receive U.S. Social Security benefits while outside the U.S. only if they meet certain requirements. Under the agreement, however, you may receive benefits as long as you reside in Korea regardless of your nationality."
좋은 일이네요. 졸업 후 미국서 몇년 더 있다 귀국하게 되더라도 사회보장세를 홀라당 까먹지는 않겠어요. 반대로 한국서 국민연금 납부 몇년 하시다 온 분들한테도 좋은 일이겠구요.
Good. So I may not lose Social Security payments even though I work in the US for a few years and move back to Korea. Or it's a good thing for people who have worked in Korea and moved the the US.