'감상 (thoughts)'에 해당되는 글 10건
2008.02.28 17:36

A YouTube video of New York Philharmonic performing Arirang in N. Korea.
앵콜로 연주한 아리랑 연주 장면이랍니다.
This is the most famous version of Arirang(아리랑), but there are other variations from different areas.
The much-talked long-take scene of Jindo Arirang from Seopyonje(1993). 서편제(1993)의 롱테이크 신으로도 유명한 진도 아리랑 장면. 생각이 나서 찾아봤습니다.
재작년에 한국에 갔을때 서편제 DVD를 사왔습니다. 그때 저 장면을 보고나서부터 궁금해진 건데 왜 "진도" 아리랑에서 진도에서 먼 "문경새재" 이야기를 하는 걸까요? 극중 인물들이 떠돌아 다니다 보니 지어낸 걸까요? 진도 아리랑 가사를 검색해봐도 문경새재가 나오고, 문경새재 부분은 즉흥적으로 지어낸 가사가 아닌것 같거든요. 궁금하네요.
2008.02.26 11:05

Feb 2
Blue Man Group
보스턴에 오래 살면서도 한번도 본 적이 없었는데 생일 선물로 드디어 보게 되었습니다. 작은 극장 전체가 공연 세트처럼 꾸며진 분위기가 2001년 런던에서 본 Cats 공연장을 연상케 했고 공연도 재미있었습니다. 마지막에 휴지(?)를 마구 풀어내는 부분은 좀 찜찜했지만요. (이 종이들을 다 감아서 다시 쓰는 건 아닐테고, 어디로 가는거냐..)
Feb 9
Persepolis
제가 예상하던 것보다는 심각하고 우울한 이야기가 많은 영화였습니다. 전 그냥 좀 예사롭지 않은 (전지구상으로 보면 아주 예사롭지 않은 것도 아니겠죠. 제가 비교적 평화로운 세상에서 살았을뿐.) 경험을 한 어떤 여성의 성장기를 예상했거든요. Some parts of this movie reminded me of growing up in S. Korea in the 80's during the political upheaval. (대충 이런 말을 하고 싶은데 한국말로 문장이 잘 안써지네요. 영어로 말이 되는 문장인지도 모르겠지만요.)
Feb 14
BSO - Sibelius Violin Concerto
원래 프로그램은 시벨리우스 바이올린 협주곡과 쇼스타코비치의 교향곡이었는데 시벨리우스만 듣고 디저트를 먹으러 나와 버렸습니다. 표가 공짜다 보니 그런 짓도 가능하죠. 시벨리우스 교향곡은 좋았지만 아주 훌륭하지는 않았어요. 이 곡을 BSO의 연주로 두 번 들었는데 매번 오케스트라가 모자란다는 생각이 들어요. CD로 가지고 있는 베를린 필의 연주와 비교하게 되어서 그런지, 특히 3악장 도입 부분에서 현 전체가 하나가 되서 강한 인상을 줬으면 좋겠는데 만족스럽지 않더군요. 실황과 녹음을 비교하는건 불공평하지만요.
Feb 15
Handel and Haydn Society - Mozart Requiem
모차르트 레퀴엠을 실황으로 듣는 건 또 처음이었습니다. HHS의 공연에서 실망한 적은 거의 없었던 것 같군요. 이날도 아주 만족스러웠어요. 그 다음날 6시 비행기를 타고 Phoenix로 떠나야 해서 준비하는 와중에 들은 공연이라 제가 중간중간 집중을 못하긴 했지만요.
ARO 때문에 바쁘다고 허덕대면서도 놀 건 다 놀았던 것 같네요. 아리조나 사진도 조만간 올리도록 하지요.
2008.01.13 22:56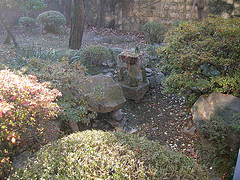 할아버지댁 정원의 빈 연못
1. 12월 22일부터 1월 3일까지 잠깐 한국에 다녀왔다. 공항에서 시내로 들어서면 거리를 메운 국어로 된 간판들이 아우성을 치는 것처럼 느껴진다. 미국과 비교해 검은 외투 일색인 지하철에서 내릴 때도 교통 카드를 찍어야 나올 수 있다는 사실을 제때제때 기억해 내는데도 며칠이 걸린다. 한글로 된 주간지가 낯설어 여러 권을 사서 챙겨온다.
돌아오는 길은 6년 전과는 달라 마지막 미국 국내선에서 내릴 때에는 그저 서부나 동부의 다른 도시에 다녀온 덤덤한 기분으로 내 인생에서 두번째로 많은 해를 보낸 보스턴의 익숙한 야경을 바라볼 뿐이다. 미국 공항 특유의 냄새도 이제는 잘 느껴지지 않는다.
2. 최근에 읽은 책들
한국에 갈때마다 영어로 된 책들을 끼고 가지만, 결국 집에 쌓여있는 옛날 책들과 새로 산 한국책들을 보게 된다. 그래도 가져간 12월 17일판 New Yorker는 대충 다 봤다.
유미리 <루주>
유학 준비하던 무렵에 심심풀이용으로 처음이자 마지막으로 읽어본 유미리 소설을 다시 읽었다. 순식간에 스타덤에 오르는 사회초년생의 달콤한 chick flick 같던 이야기는 결국 비극으로 끝난다. 리사가 화장을 지운, 그녀 본래의 모습으로 우는 마지막 장면이 새삼스럽게 어두운 결말로 다가왔다.
마거렛 미첼 <바람과 함께 사라지다>
고3때 수업 시간에 몰래 읽어가며 볼만큼 푹 빠져서 봤던 소설이라 다시 읽어봤다. 난 1부의 아주 짧은, 전쟁이 일어나기 전의 묘사가 좋다. 범우사 번역본에 계속해서 (복수로) 등장하는 애인이라는 단어가 원서에는 뭐라고 나오는지가 궁금하다.
신경숙 <외딴방>
고등학교때 읽은 책 중에서 가장 기억에 남는 책. 개인적으로 90년대 한국 소설 최고작으로 꼽아도 손색이 없다고 생각한다. 1-4부까지 진행이 되는 동안, 소설을 쓰고 있는 화자가 이미 연재된 앞부분에 대해서 이야기하는 장면이 눈에 띈다. 얼핏 보면 화자의 이름을 감추고 있는 듯 하지만, 화자가 "미스 신"이라고 불리는 장면과 "김경숙... 너하고 이름이 같다"라는 다른 대화에서 본인의 이름이 등장하는 것도 다시 눈에 띈다. 돌아갈 곳이 없었던 "희재 언니"는 죽고, 시골의 부모님과 형제들이 있었던 "신경숙"은 그곳을 빠져나와 대한민국의 중산층으로 편입한다.
박완서 <친절한 복희씨>
박완서 신간. 후기에도 나오듯이 박완서의 주인공들이 자잘한 갈등은 겪지만 대체로 편안한 노후를 보내는 모습으로 등장하는게 작가 본인의 세상과의 화해가 아닐까 싶기도 하다. "봉순이 언니"의 삶을 살았던 것 같은 이도 노년의 사랑을 만나 꿈 같은 재혼 생활을 하기도 한다. 화장지가 신기해서 부쳐주고 싶던 시절에 LA로 이민한 앤(앤 또는 안은 남편의 성으로 성을 바꾸면서 자신의 성을 이름 삼은 것이고, 왜 그렇게 시집가야 했는지를 설명해주는 이 사람의 한국 이름은 소설의 말미에 나온다)의 이야기를 돌아오는 비행기에서 읽는게 새삼스러웠다. 서울에서 LA가 20시간이 걸렸다고 하는데, 이제 동경에서 샌프란시스코는 8시간 반 길일 뿐이다.
야마자키 후미오, 김대환 역 <병원에서 죽는다는 것>
종말기 의료에 대한 한 일본인 의사의 의견. 일본에서는 환자에게 병명을 감추는 것이 통상적인 듯한데, 미국과는 괴리가 있는 이야기고, 요즘 한국의 상황은 어떤지 잘 모르겠다. 비행기에서 읽기에는 좀 무겁지만 생각할 만한 거리가 있는 책이었다.
이덕일 <조선왕 독살사건>
이 책은 이제 절반쯤 읽었다. 독살설이 있는 조선의 왕과 세자 8명에 대한 가벼운 역사서. 인종, 선조, 소현세자까지 끝내고 효종편을 보고 있다. 나머지 네 명의 왕은 현종, 경종, 이미 여러번 다뤄진 정조, 그리고 고종. 소현세자 이야기는 따로 다룬 책을 읽어보고 싶다. 소현세자가 나오는 사극은 없나?

문학
2007.12.16 14:38

난해하긴 하지만 좋아하는 부분인데 매끄럽게 번역할 자신이 없다. 잘 연결되지 않는 부분도 있고.
Roy: What's it like? After?
Belize: After . . .?
Roy: This misery ends.
Belize: Hell or heaven?


. . .


Like San Francisco.


Roy: A city. Good. I was worried . . . it'd be a garden. I hate that shit.
Belize: Mmmm.


Big city, overgrown with weeds, but flowering weeds. On every corner a wrecking crew and something new and crooked going up catty-corner to that. Windows missing in every edifice like broken teeth, fierce gusts of gritty wind, and a gray high sky full of ravens.


Roy: Isaiah.
Belize: Prophet birds, Roy.


Piles of trash, but lapidary like rubies and obsidian, and diamond-colored cowspit streamers in the wind. And voting booths.


Roy: And a dragon atop a golden horde.
Belize: And everyone in Balenciaga gowns with red corsages, and big dance palaces full of music


and lights and racial impurity and gender confusion.

And all the deities are creole, mulatto, brown as the mouths of rivers.

Race, taste and history finally overcome.

Tony Kushner, "

Angels in America - Part two: Perestroika

", Act 3, Scene 5, 1995

Words:
catty-corner
: in a diagonal or oblique position <the house stood kitty–corner across the square>
edifice: 건물;대건축물, (지적인) 구성물, 체계
lapidary: the art of cutting gems
obsidian: 흑요석(黑曜石), 오석(烏石)
cowspit: ?
streamer:
1
흐르는 것,
2
펄럭이는 장식, 장식 리본,
3
(기선이 출발할 때 사용하는) 테이프,
4
가늘고 긴 나뭇가지,
5
(북극광 등의) 사광(射光), 유광(流光);[pl.] (일식(日蝕) 때 보이는) 코로나의 광휘
Golden Horde:
a body of Mongols that overran eastern Europe in the 13th century and dominated Russia until 1486 (?)


quotes
,
문학
2007.12.12 15:04

I got really into reading Relative Choices blog on NYtimes recently.
http://relativechoices.blogs.nytimes.com/
I knew there were many Korean Adoptees (KAD, a new lingo I learned from this blog), yet I am surprised at the proportion of KAD writers, commentors, and adoptive parents on this blog. Plus comments by Korean-Americans and Korean nationals like myself, I have never seen a discussion like this on a major American media.
List of interesting posts:
http://relativechoices.blogs.nytimes.com/2007/11/06/tracing-my-roots-back-to-korea/
This was very touching. The picture made me teary from the first thing in the morning. Also check comment #37 by the author.
http://relativechoices.blogs.nytimes.com/2007/12/04/blood-ties-and-acts-of-love/
This paragraph made me think about the issue of "racial" and "cultural identity".
Even though I hope to someday bring our child to Korea to meet extended biological kin, my husband and I cannot provide all of the skills needed to be effective in that culture. We don't speak Korean in the home; nor do we cook Korean food regularly. Although we have become very knowledgeable about Korean culture and have connections to the Korean-American community, I wonder about our ability to nurture our child's racial and cultural identity.
http://relativechoices.blogs.nytimes.com/2007/11/13/who-are-you-also-known-as/
My personal awakening to the losses of adoption began in my late adolescence when I became aware that strangers assumed I was not an American because I did not have blond hair and blue eyes or assumed I spoke Korean (or Chinese or Japanese) or complimented me on my English.
This part sounded strange for me, because I met some people who were surprised to find that I can read and write (or IM) in another language. Maybe I remember those comments more than the opposite ones.

american life
2007.11.20 12:06

I passed my prospectus defense with condition yesterday. I have to make some changes, mainly cutting stuff out from my proposal and have to get back to the committee, but the main rush is over now. Phew. :)
I decided to celebrate it by standing outside of
BSO hall
for 4 hours to get student rush tickets for one night
performance
of Mahler's
"Das Lied von der Erde(Song of the Earth)"
by Berliner Philharmoniker with Simon Rattle, Ben Heppner and
Thomas Quasthoff
. For me this piece is somewhat challenging, but I found if very beautiful. There was an amazing moment of silence after the last echo of "Ewig... ewig... (Forever... forever...)" had faded away, before the long applause.
Also, I had a great time at BSO when they played
Mahler's 1st Symphony "Titan"
last Thursday. This is the most familiar piece of Mahler for me. Jame Levine's style was different from what I was used to by listening to
Bernstein's recording with Royal Concertgebouw Orchestra Amsterdam
- slow passages were much slower. Bass solo at the 3rd movement was impressive to hear at a live performance - I had hard time finding him from 2nd balcony, but it was fun to see the eight horns standing up for the finale from up there.

music
2007.11.09 09:47

http://www.mymoneyblog.com/archives/2007/11/irs-how-does-your-income-stack-up-what-portion-of-taxes-do-you-pay.html
I am in shock just to know that this discussion can happen. Question on progressive tax??? I guess it is a "topic to discuss" in this country, along with the question that if everyone deserves access to healthcare. Of course, it should be the survival of the fittest, eh?
This reminds me of
Park No-Ja(박노자)
's discussion on who owns one's diploma in a book a recently read (
21세기를 바꾸는 상상력
). Where higher education is paid by the government, one's degree does not belong to the individual in some sense. There is an obligation follow, to return to the society. That's also what my socialists-in-American-standard parents taught me. My science high school and national university education was mostly paid by tax money, hence I owe it to the Korean public. Here in the US, each individual owns their diploma - I have seen the exact expressions. I paid off my student loan, now I own my diploma. What I can earn from it is also mine.
I wonder if this society will turn around someday. These ideas sound scary to me, but don't seem to bother too many people.

american life
2007.09.24 22:27

I started my 2007-2008 cultural season with a nice modern-touched opera-play
Figaro
at
ART
.
지난 주말 ART에서 Figaro로 이번 공연 시즌을 시작했다.
I was never a big fan of Mozart's operas; in fact, only Mozart I really listened were mass music. One reason I never got into Mozart operas is that it's just impossible to follow the story by only listening to CDs. I guess it's more correct to say that I'm not a big fan of
Opera Buffa
. But I am getting more interested to earlier music than the ones I used to like.
사실 난 미사 음악을 제외하고는 모짜르트를 좋아한 적이 없다. 정확히 말하자면 오페라 부파를 좋아하지 않는거겠지만, 정신없이 등장인물 많고 산만한 모짜르트 오페라는 음악만 들어서는 내용을 알기도 어려워서 유명한 아리아 말고는 제대로 들어본 적이 없다.
So, I finally learned what it was about, although I already own a legendary recording of
Le nozze di Figaro
. I won't even start talking about the story, because even after watching it, it just doesn't make sense. Just a silly story told by beautiful arias. Maybe the important thing is making mockery of the nobles?
그래서 이미 에리히 클라이버의 피가로의 결혼을 가지고 있었음에도 이번에 드디어 대략 어떤 이야기인지를 배웠다. 대강 추린다는건 불가능한것 같아서 줄거리는 쓰지 않겠다. 사실 별 의미도 없는것 같고. 하인이 귀족을 조롱한다는 주제 정도?
ART's Figaro, not
Le nozze di Figaro, started like a play, set in French revolution, old Figaro and Count remembering their past. I thought it was going to be mostly play with a few songs in when the first aria "
Cinque, dieci, venti, trenta (Five, ten, twenty, thirty)" was cut short, but they resumed the first aria soon and pretty much played the whole opera. I like the simple stage and the use of a screen to tell the change of place on the curtainless stage and also for close-ups.
피가로의 결혼이 아닌 ART 버전의 피가로는 피가로의 결혼에서 16년후 프랑스 혁명기가 배경이다. 늙은 백작과 피가로는 젊은 날을 회상한다. 둘의 말장난으로 시작해서 첫 아리아가 환청처럼 울리다가 끊겼을때, 나는 잠시 남은 시간이 대부분 연극적으로 진행될거라 예상했다. 하지만 수잔나의 환영이 등장하면서 노래는 이어졌고 이후는 대체로 원작을 따라 진행되었다.
I learned about this show from a postcard sent to me. It's not surprising that I used to get those flyers all the time to my old address; I subsribed
BSO
,
ABT/Met Opera
,
Handel and Haydn Society
and made contributions to all the these companies at least once. But I just moved in July, and didn't give my new address to BSO or H&H or anything. HOW DID THEY KNOW MY NEW ADDRESS? Well, they successfully sold three student rush tickets after all.
황당한 건 이 공연에 대해서 내 이름으로 날아온 엽서를 통해서 알게 되었다는 거다. 전 주소로 subscrition을 한 적이야 많으니 이해가 되지만 어떻게 새 주소를 알고 광고지를 보낸건지는 알다가도 모를 일이다만 학생석 3장을 팔았으니 성공적인 마케팅이었다고 할수 있다. 궁금하다, 어떻게 내가 이사한걸 알았을지.
BSO college card
offers
a great selection of Thursday night concerts
this year. Looking forward to it.
올해 BSO 시즌도 기대할 만한 공연이 많다...

music
2007.09.17 00:20

Savasana-Corpse pose
I bought Sep-Oct issue of
Yoga+ Magazine
this weekend. It was an impulse purchase but I'm enjoying reading it more than Iyengar's book.
Tonight I was reading it page by page, my laptop closed at that time (important!), and saw a small and intriguing ad. "YOGA OF DYING". I decided to check out their webpage.
www.savasanaexperience.com
The idea is practiciing and preparing the dying process, to be able to let go during the process death. It got me thinking.. We all die someday.. I already have seen death of people near my age.. Being prepared may not be of use at all in some cases.. It sounds something very unrealistic and far from now like when I think about retirement etc., but it makes sense to be prepared as well.
Memento Mori (Remember that you will die).

Simple Life
2007.05.15 22:52

This is an old post from my cyworld minihome. I watched "Girl with a Pearl Earing" last night and remembered how I was pleasantly surprised to see Delft tiles in Philadelphia Museum Art last year. It is said to be a typical decorative feature of houses built in 1700s in Philly. Supposedly, there were a population of Dutch immigrants in Philly.
http://www.phila.gov/fairpark/culture/architecture/laurelhill.html

"Father had been a tile painter, his fingers still stained blue from painting cupids, maids, soldiers, ships, children, fish, flowers, animals onto white tiles, glazing them, firing them, selling them.

아버지는 타일도장공이었다. 큐피드와 하녀들, 병사들, 함선, 어린이, 물고기, 꽃과 동물들을 흰 타일에 그리고 유약칠을 하고 굽고 팔던 아버지의 손가락에는 아직도 푸른 얼룩이 져 있었다."

"It was my favorite tile of his. ... This one, though, my father kept specially for us. It was a simple picture of two small figures, a boy and an older girl. They were not playing as children usually did in tiles. They were simply walking along, and were like Frans and me whenever we walked together - clearly our father had thought of us as he painted it. The boy was a little ahead of the girl but had turned back to say something. His face was mischievous, his hair messy. The girl wore her cap as I wore mine.
그것은 아버지의 타일 중에 내가 가장 좋아하는 것이었다. .. 그것은 아버지가 우리를 위해 특별히 간수해둔 것이었다. 두명의 어린이들, 남자아이와 좀더 나이가 위인 여자아이가 있는 단순한 그림이었다. 그애들은 보통 타일 그림의 어린이들처럼 놀이를 하고 있지 않았다. 그들은 마치 프란츠와 내가 같이 걸을때처럼 같이 걷고 있을 뿐이었다 - 아버지는 그 그림을 그릴 때 우리를 생각하고 있었던 것이 분명했다. 남자아이가 약간 앞서 걷고 있다 돌아서서 무언가를 말하는것 같았다. 남자애의 표정은 개구장이같고 머리카락은 흐트러져 있었다. 여자아이는 내가 늘 하는 모양으로 모자를 쓰고 있었다."

"The walls of each kitchen were tiled in white, and the fireplace in blue and white Delft tiles painted with birds in one section, ships in another, and soldiers in another. I studied them carefully, but none had been painted by my father.
부엌의 벽에는 흰 타일이 붙여져 있었고, 벽난로는 새들과 함선들과 병사들의 타일로 채워져 있었다. 나는 그 타일들을 꼼꼼히 살펴보았지만 아버지의 그림은 찾을 수 없었다."

- Girl with a Pearl Earring, Tracy Chevalier